iSpring FP15X25 5 Micron Box of 25 10"x2.5" Standard Sediment Water Filter Replacement Cartridge, 25-Pack
About this item
Made of 100% Melt-Blown Polypropylene, multi-layer filtration. This filter can also be used for pool and hottub.
Diameter 2.5" x 10" Length
5 Micron - 25 filters included
Fits 10" filter housings
Tested by independent third-party to meet NSF/ANSI standard
Frequently Bought Together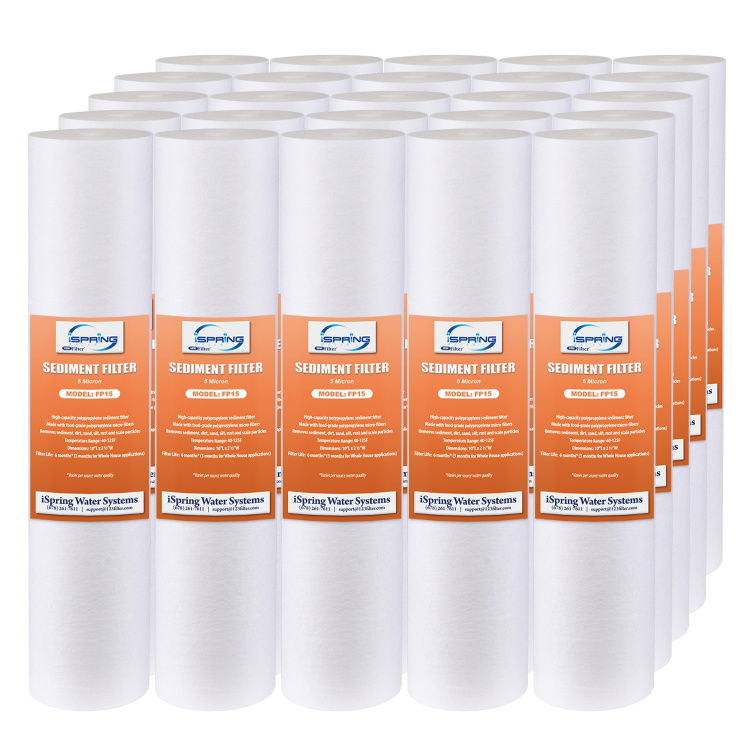 iSpring FP15X25 5 Micron Box of 25 10"x2.5" Standard Sediment Water Filter Replacement Cartridge, 25-Pack
$64.99
iSpring Universal PP Sediment Filters
Different water filters have different purposes. Some are designed to remove chemicals from water. Others remove metallic contaminants, dissolved solids, or charged particles. Polypropylene sediment filters are usually placed as the first stage of the water filtration system to remove suspended solids, variously referred to as turbidity, sediment, or particulate.
PP sediment filters are widely used as beds of natural media like garnet, sand, and anthracite to filter out unwanted particles like dirt and iron rust.
In general, flow rates for sediment filters are higher than equally sized carbon or media filters. The tighter the filter is, the slower the flow will be. iSpring provides a wide variety of micron sizes to suit your specific need.
Inner Spiral Pattern
Evenly separated spiral pattern increases pressure resistant, filtration area, and water flow.
Multilayered Structure
Sparse Layer: Large particles are filtered to extend the filter life.
Compaction Layer: Made with fine fiber and filters smaller particles that passed through the sparse layer.
Precision Layer: Small dust is filtered to assure efficiency of water filtration process in the following stages.
High Quality Material
iSpring sediment filters are manufactured to comply strictly with FDA standard (CFR - Part 177) and tested by independent third party against NSF/ANSI standard for material safety and water quality. (NSF/ANSI 42, by NSF International, 10/2018)
Product Description

Reduction of Sediment
It is usually the first filter in a water filtration system. The main function is for the reduction of sediments, such as sand, dirt, silt, rust, and various fine particles that even can't be seen by naked eyes. 100% MELT-BLOWN POLYPROPYLENE
Sediment filters are made of fine melted polypropylene, which is then blown and spun in a cylinder-like form. It is physically strong and resists chemicals and corrosion. Tested by independent third-party to meet NSF/ANSI standard
Each cartridge is individually wrapped with manufacturing date Micron rating: 5 Micron Dimensions: 10" x 2.5" Capacity: 15,000 gallons Replacement schedule: 1-4 times a year, depending on the water quality.
---
Availability:

In Stock

Model:

FP15X25

Manufacturer:

iSpring
Write Review
There are no reviews for this product.