iSpring RCC1UP-AK 7 Stage 100 GPD UnderSink RO Drinking Water Filtration System With Booster Pump, Alkaline Ph+ Remineralization Filter And UV Filter
About this item
QUALITY 7-STAGE FILTRATION: This Reverse Osmosis (RO) water filtration system removes up to 99% of over 1,000 harmful contaminants like chlorine, fluoride, lead (removes up to 98%), arsenic, asbestos, calcium, sodium, and more.
BOOSTER PUMP: Reverse Osmosis produces filtered drinking water by pressurizing water molecules through RO membrane and leaving impurities out. Equipped with an electric booster pump enables standard RO performance regardless of pressure variations; delivering higher throughput with less wastewater in comparing to pumpless models.
UV FILTER STAGE: The UV stage comes with a smart Flow Sensor Switch turns the UV unit on and off with 3 minutes delay automatically with water flow, saving power and lengthening the life of the UV lamp.
FEATURES: Come with European-Style brushed nickel kitchen faucet with the rust-free finish. The 1st stage has see-through housing that enables convenient visual inspection of filter condition. Our water filter features 3 pre-filters (to remove large contaminants and protect RO filter from chemicals) (RO) filter (to remove contaminants down to 0.0001 microns), and (AK) filter to finally restore just the right proportion of healthy minerals and a natural balance
DO-IT-YOURSELF INSTALLATION: Typically, in a couple of hours with industry-leading help just a phone call away. Fits under a standard kitchen sink, with all parts included and instructions and videos. For leak-free installation, simply push the tubing into quick-fitting connectors and lock; no threading pipes needed. iSpring water softener is equipped with quality components to ensure reliability and low maintenance for many years to come.
Frequently Bought Together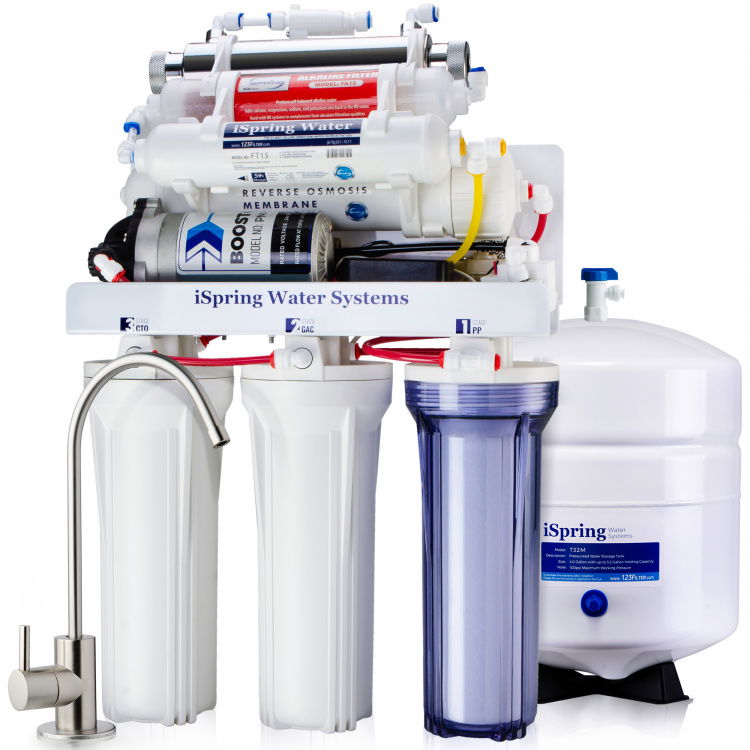 iSpring RCC1UP-AK 7 Stage 100 GPD UnderSink RO Drinking Water Filtration System With Booster Pump, Alkaline Ph+ Remineralization Filter And UV Filter
$407.99