Greatwell MC7 Reverse Osmosis (RO) Membrane Replacement 75 GPD, 11.75" X 1.75"
About this item
Enjoy Your Water with Confidence - Our Reverse Osmosis membrane is able to remove up to 99% of over 1,000 contaminants from your water, including lead (removes up to 98% of lead), chlorine, fluoride, arsenic, asbestos, calcium, sodium, and more.
Tested by independent third-party to meet NSF/ANSI Standards, our Reverse Osmosis Membrane is made of food-grade material that provides high packing density to remove contaminants. With the 0.0001 micron size, it only allows water molecules to squeeze through and virtually nothing else. TDS rejection rate up to 97% (under NSF58 testing condition).
Standard Size - With 11.75" X 1.75" industry-standard size, our membrane fits most standard under sink RO membrane housings. It has the capability of producing 75 gallons of water per day, ensuring that families of nearly any size will have plenty of clean drinking water available on demand.
Peace of Mind Customer Service - Register online to activate your extended manufacturer warranty and life-time free tech support. We stand behind our products and if you encounter any problems with any of our products please reach out to us immediately. We are happy to help!
Please note - There are wet & dry membranes in the market and the ones we sell are the dry version. Comparing to the wet version, the dry ones can be stored longer, are easier to preserve (no need of vacuum sealing), and don't contain preservation solution that needs to be washed off before usage. The membrane normally lasts about 2-3 years depending on your source water quality. If your water is very hard (Total Dissolved Solids level above 750 ppm), please contact us for customized solutions.
Frequently Bought Together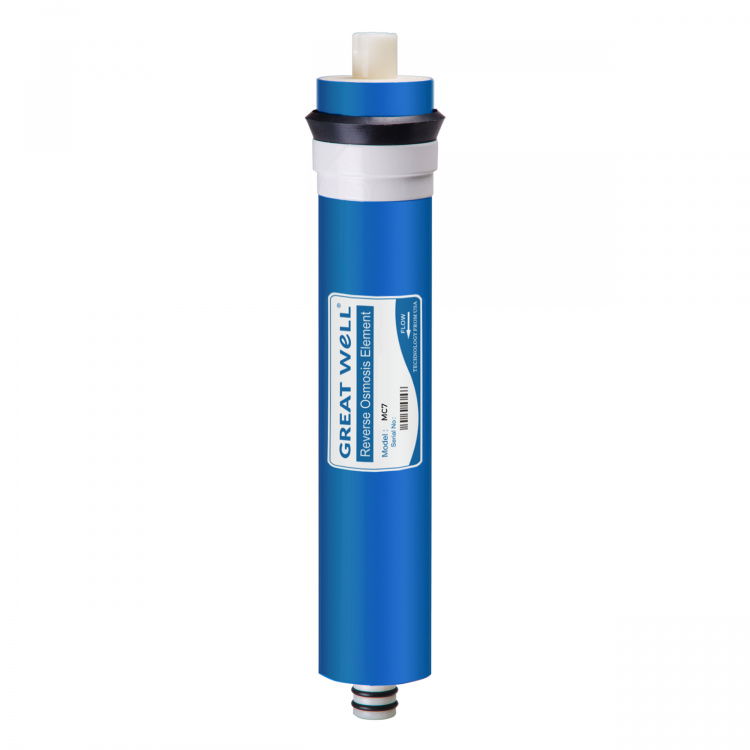 Greatwell Reverse Osmosis (RO) Membrane Replacement 75 GPD, 11.75" X 1.75"
$36.99