iSpring FC15BX4 4.5x10 in. 5 micron Carbon Block (CTO) Water Filter Replacement Cartridge for Under Sink and Whole House Water Filtration Systems, Pack of 4
About this item
Using quality coconut shell carbon and highly compact fabrication tech, this activated carbon block CTO(Chlorine, Taste, and Odor) filter cartridge is designed and produced to achieve filtration efficiency and long filter life for 10" Whole House and Undersink Water Filtration Systems. Free of surfactants, binders, and adhesives. No leaching carbon ash.

Knocks out cloudiness as well as bad tastes and odors, removes up to 99% of chlorine, and is effective on herbicides and industrial solvents and other contaminants like trihalomethanes. Steady flow and high absorption.

Each cartridge filters up to 50,000 gallons depending on the use and feed water quality. Replace the filter every 6 months or every 50,000 gallons of water for ideal performance, depending on the quality of source water and daily water consumption.

Fits standard 10"x4.5" filters. Official 2nd stage Carbon Block replacement filter cartridge for iSpring under sink water filter US21B and whole house water filtration system WGB21B; 1st stage for WGB21BM and WGB21B-PB. All 4 cartridges are individually sealed for freshness.

Your iSpring shopping experience is backed by a 30-day money-back guarantee, extended warranty upon registration, and lifetime tech support from iSpring in Atlanta, GA at (678) 261-7611.



Frequently Bought Together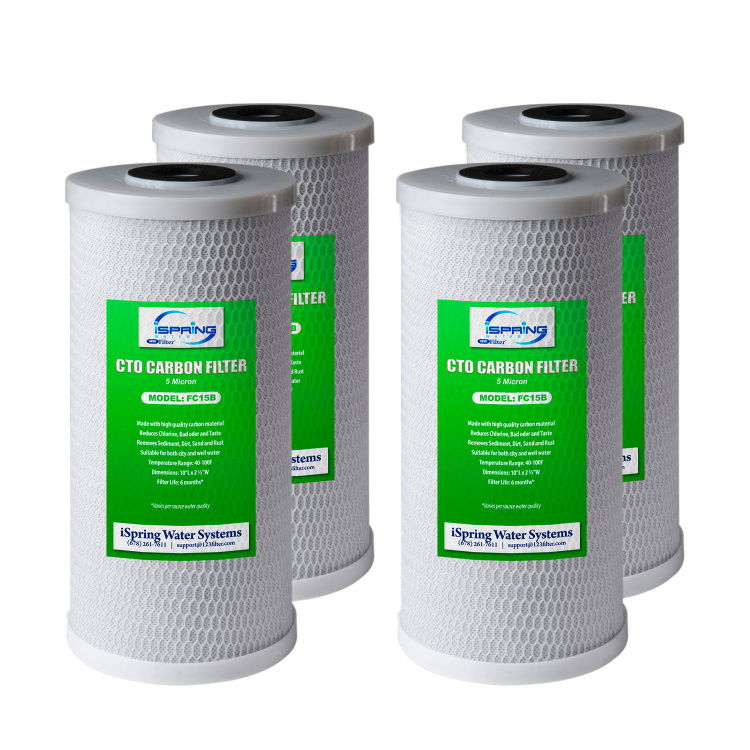 iSpring FC15BX4 4.5x10 in. 5 micron Carbon Block (CTO) Water Filter Replacement Cartridge for Under Sink and Whole House Water Filtration Systems, Pack of 4
$115.99