iSpring FP220BX6 20" x 4.5" Water Filter Replacement Cartridges - Sediment Filter - 20 Micron - Fits Whole House Water Filtration Systems - Pack of 6
About this item
Protect Your Family and Household Appliance from Large Sediments: The FP220B sediment filters are specially designed to remove large sediments, dust, sand, large particles, silt, dirt, and rust from water. They are usually used as the first stage of a water filtration system to prevent the filters that follow to get clogged too soon. This filter can also be used for pool and hottub.
Standard Size: Our filter fits standard 20" x 4.5" housings, including brand name models.
The FP220B high capacity polypropylene sediment filter is able to achieve filtration down to 20 microns. The filters are tested by an independent third-party to meet NSF/ANSI standards. They have a capacity of 100,000 gallons of water, enough to supply a family of four with clean water for a full year (depending on your water quality). Water flow: up to 15 GPM.
Peace of Mind Customer Service: Register online to activate your manufacturer warranty and life-time free tech support from U.S. local support team. We stand behind our products and if you encounter any problems with any of our products please reach out to us immediately. We are happy to help!
Please Note: The cartridges are individually wrapped to ensure freshness. Please unwrap the cartridges before use. Unlike an RO membrane, the filters don't reduce Total Dissolved Solids (TDS). If you are interested in a filter that removes TDS, consider our iSpring Reverse Osmosis (RO) systems.
Frequently Bought Together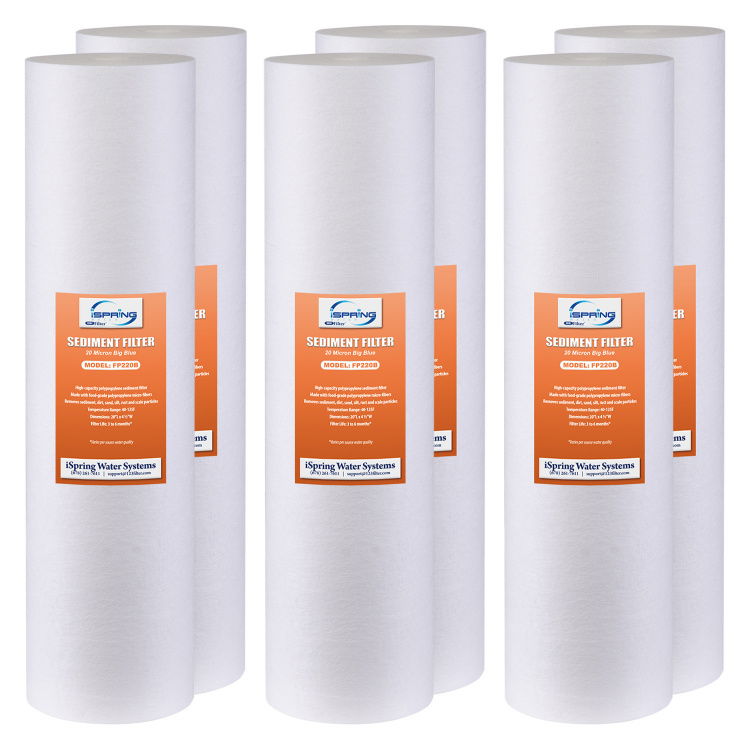 iSpring FP220BX6 20" x 4.5" Water Filter Replacement Cartridges - Sediment Filter - 20 Micron - Fits Whole House Water Filtration Systems - Pack of 6
$95.99
---
Product Features
Usually used as first stage for 20" BIG BLUE whole house filter. It is effective for removing dirt, rust and sand particles down to 20 micron, allows faster water flow than 5 micron filters. Depending on inlet water quality or flow rate, it needs to be replaced every 6 months or 100,000 gallons of water.
---
Product Highlights
Made of Melt-Blown Polypropylene, 4-layer filtration
Fits standard 20" BIG BLUE housings, including brand name models
---
Availability:

In Stock

Model:

FP220BX6

Manufacturer:

iSpring
Write Review
There are no reviews for this product.